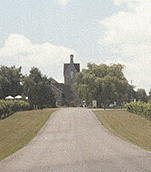 Now it's off to lunch....
Afterwards, we ate a sumptuous lunch on the Chef's Patio of Vineland Estates. The remainder of our day was spent touring the delightful shops of Niagara on the Lake. We all had such a wonderful day that it was decided to make this a joint annual event - we hope to see you next year!


Bernadette, Christine, and Kristina enjoying their meal.