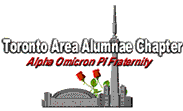 Golf Tournament for Osteoporosis
May 8th, 2000
| | |
| --- | --- |
| The AOII Golf Tournament for Osteoporosis on Monday, May 8th was a wonderful day of fun, sun, and of course, golf. The sun was shining on the beautiful greens of Carrying Place Golf and Country Club, and a good time was had by all...especially at the second hole where a hole in one earned the golfer a the chance to win a car! Prizes, dinner and an auction followed the post-game refreshments, with all proceeds going to the Osteoporosis Society. Thank you to everyone who came out for golf and/or dinner. Be sure to keep up on the Alumnae events; there's something for everyone! And if you missed it don't fret ~ we're doing it again in May 2001!! | |
THANK YOU TO OUR
ORGANIZING COMMITTEE
Kirsten Bell
Kristina Hunt
Erica Nigalis
Angela Talbot
AND A BIG THANK YOU TO ALL OF
OUR PLAYERS, DINERS, & AUCTION ATTENDEES
WITHOUT YOU, THIS WOULDN'T
HAVE BEEN POSSIBLE!
Osteoporosis is a disease characterized by low bone mass and deterioration of bone tissue. This leads to increased bone fragility and risk of fracture, particularly of the hip, spine and wrist. Over 1.4 million Canadians suffer from osteoporosis. This not a disease for women alone - 1 in 4 women over the age of 50 has osteoporosis and 1 in 8 men over 50 also has the disease.
See all the fun at our 2001 tournament
---