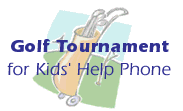 2nd Annual Charity
Golf Tournament
benefiting Kids Help Phone

May 11th, 2001
The AOII Golf Tournament for Kids Help Phone on Friday, May 11th was a terrific way to end the week with friends, sisters, and of course, golf. The beautiful Maples of Ballantree was the setting for our 2nd Tournament and what a day it was! After a energizing round of golf and fun, a dinner and auction followed with all proceeds going to the Kids Help Phone, raising almost $5,000!

Thank you to everyone who came out for golf and/or dinner. A special thank you to our two Platinum sponsors, AT&T Canada and Burger King, and our to our Silver sponsor, Future Executive Personnel. Be sure to keep up on the Alumnae events; there's something for everyone! And if you missed us this year - never fear ~ we'll be back in May 2002!!

Stay tuned for photos
coming soon!

A BIG THANK YOU TO OUR PLAYERS,
DINERS, & AUCTION ATTENDEES
WITHOUT YOU, THIS WOULDN'T
HAVE BEEN POSSIBLE!
Kids Help Phone is Canada's only toll-free, 24 hour, national bilingual telephone counseling service for children and youth.

They provide counseling services directly to children and youth between the ages of 4 and 19 years and help adults aged twenty and over find the counseling services they need. Counselors answer an average of between 800 - 1000 calls every day and estimate that approximately 30% of callers are "children at risk". This includes children experiencing violence; struggling with alcohol and/or drug abuse; and or dealing with issues related to suicide.

For more information, please visit the Kids Help Phone website at http://kidshelp.sympatico.ca
---