Convention Hi-lights
There was a terrific representation of the Canadian AOII chapters at AOII Convention, held June 24th to June 27th, 1999 at Walt Disney World's Coranado Springs Resort in Orlando, Florida.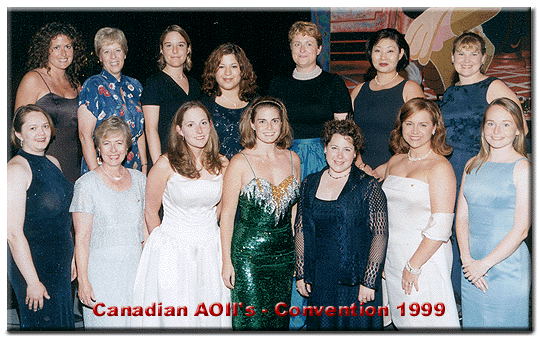 Back: Dee Campbell, Joan MacCallum, Melina Todino, Julia Weber, Marjorie Stevens, Carolyn Rhee-Thompson, Tiffany Watson
Front: Becky Heaman, Cathy German, Vanessa Montgomery, Kristy Lee Manchul, Lesley Ruault, Shala Berry, Kristina Hunt.
Our chapters won a variety of awards - our congratulations go to....
Distinguished Service Award
Toronto Area Alumnae Chapter

Rose Award
Marjorie Stevens,
Beta Kappa, University of British Columbia


Performance Certificates
Beta Tau Chapter - University of Toronto
Beta Tau AAC
Calgary Alumnae Chapter
Gamma Chi Chapter - Carleton University
Kappa Lambda AAC
Ottawa Alumnae Chapter
Toronto Area Alumnae Chapter
Vancouver Alumnae Chapter


Foundation Donors Certificates
Beta Tau Chapter, University of Toronto
Calgary Alumnae Chapter
Gamma Chi Chapter, Carleton University
Kappa Lambda, University of Calgary
Ottawa Alumnae Chapter
Montreal Alumnae Chapter
Toronto Area Alumnae Chapter
Vancouver Alumnae Chapter